People don't trust unknown numbers. In fact, nearly 9 in 10 people said they don't answer calls from numbers they don't know. INFORM from First Orion empowers businesses to improve their customer experience and restore trust in the phone call across every major mobile carrier in the U.S.
Explore the Benefits

INFORM Has to Offer
With an up to 32-character customizable text display, your business can deliver calls made to answer. But it's more than just answer rates; customers pick up ready to do business, increasing customer engagement, call-center efficiency, and total conversions.
You're in the business of connecting with consumers – INFORM branded calling brings together everything for a successful communication experience, no matter the industry or use case.
Businesses using branding calling see giant returns on investment thanks to more calls answered and more engagement with customers.
Choosing First Orion means you've got an innovator for life – we pioneered this technology and we're always looking for ways to improve.
Build Customer
Trust & Loyalty
Customer retention begins with more transparency in every phone interaction.
Enhance Your Brand Reputation
Showcasing your branding front and center when you call restores trust in the phone call and separates you from the competition.
Try it for yourself!

See INFORM in action
INFORM ensures brand consistency across all channels, allowing you to control and customize your outbound calls. INFORM Branded Communication gives you more characters to explain who you are and why you are calling, in addition to better insight into how your programs are resonating. But don't take our word for it – play around with the demo below to see how your calls could appear on every major mobile carrier in the United States.
It's Time You Finally
Get Some Answers
With INFORM branded text display, enterprises have seen dramatic results ranging from increased answer rates to better conversions. Go beyond the answer rate and discover how branded calling transforms your customer and employee experience.
45%
INCREASE
in Conversion Rate
Telehealth Provider
55%
DECREASE
in Decline Rate
National Home Improvement Retailer
68%
INCREASE
in Long Call Duration
Property Insurance Provider
76%
INCREASE
in First Call Conversions
Call Center for Financial Services
Level Up Your Defense Against

The Bad Guys
For enterprises with high call volumes or in highly sensitive industries such as healthcare, finance, or insurance, First Orion offers additional levels of call authentication and brand protection. With INFORM Paired and SENTRY, your brand reputation and your clients are secure against scammers and spoofers.
INFORM PAIRED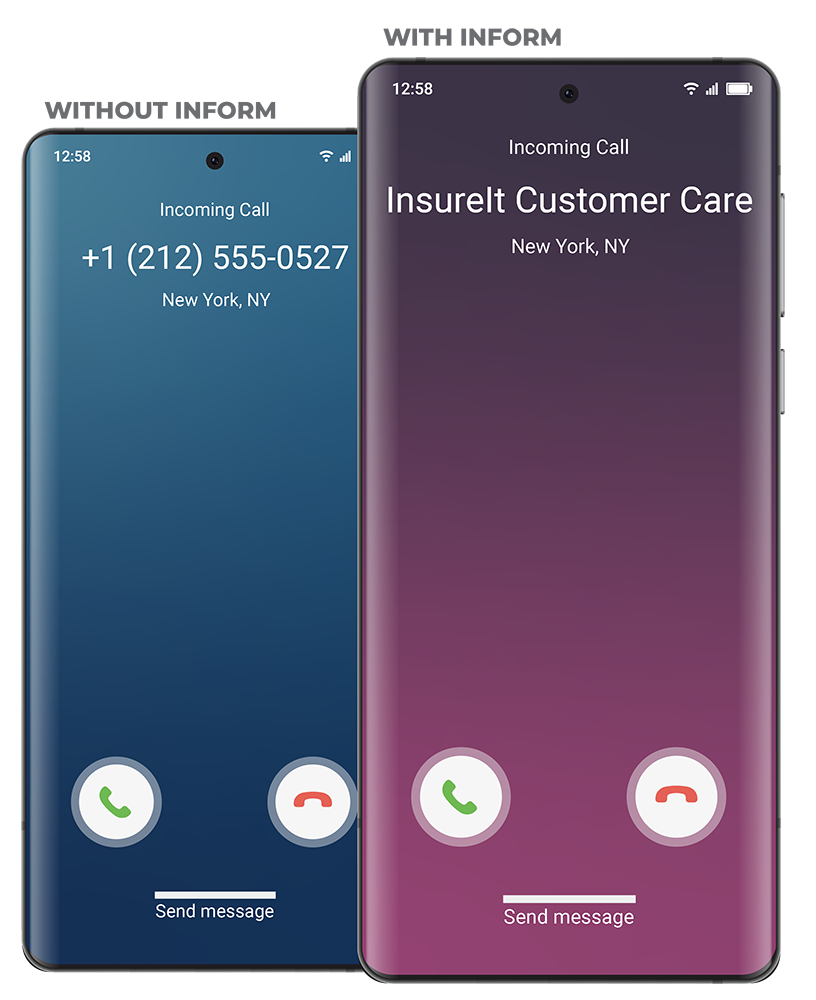 INFORM Paired is a complimentary feature of INFORM that blocks bad actors from spoofing your INFORM brand display. With Paired, only your authenticated calls will have your branding, and illicit calls will be delivered without branding.
SENTRY
For even more security, SENTRY prevents spoofing of your business numbers, ensuring only your legitimate business calls are delivered to your customers. All illicit calls are blocked and won't be delivered to your customer's device.
Why Choose First Orion
See what our customers say about us!
"Our contact rates are slightly down by 1.5% to 2%, but revenue per attempt has increased 15% to 40% depending on the brand that we're calling about."
Senior director of call center operations in the online marketing industry
Call Center
"If someone misses their delivery, it costs us $100 to revisit your house to redeliver an appliance. We do from 5 to 8 million appliance deliveries a year, so these numbers are significant."
Delivery notification retail product manager
Delivery
"We were talking with our CEO and showed him a branded call experience from First Orion, and everybody on the executive leadership team thought it was awesome. It just clicked with them that we need this because nobody picks up the phone anymore if they don't know who's calling."
Senior manager, product management and post-purchase experience
Retail
Okay, so you're the researcher type. Dig into the library of branded calling and download more information on INFORM and how it fits into your tech stack and calling programs.
Data Sheet

Get In-Depth Info on INFORM

You can solve the problem of the unwanted calls with INFORM branded text display. By branding phone calls through First Orion, you can reach more customers, increase engagement and conversions, and deliver superior customer satisfaction.
Advanced Analytics

Data That Doesn't Lie

A successful calling program is about more than just answer rates – it's about ROI impact. Our analytics offer deeper insights into your calling programs across the entire Branded Communication ecosystem, allowing businesses to make actionable insights to optimize their calling programs and reach their KPIs.
With advanced metrics like Call Duration Buckets and Program Comparison, you can identify strengths and weaknesses of your calling programs and compare metrics between programs – giving you the premium performance data you need to see what's working.
Digital Communication Exchange
The Engine that Drives INFORM
INFORM is powered by our centralized technology platform, the Digital Communication Exchange.
The Digital Communication Exchange is driven by a real-time API approach and connects enterprises directly with solution providers and carriers, empowering businesses to capitalize on new technology advancements.
Say goodbye to siloed, disjointed platforms and hello to the future of digital communication.