INFORM®
Branded Text Display
Your brand. Your customer. Your call. When your customers know it's you calling, they're ready to do business.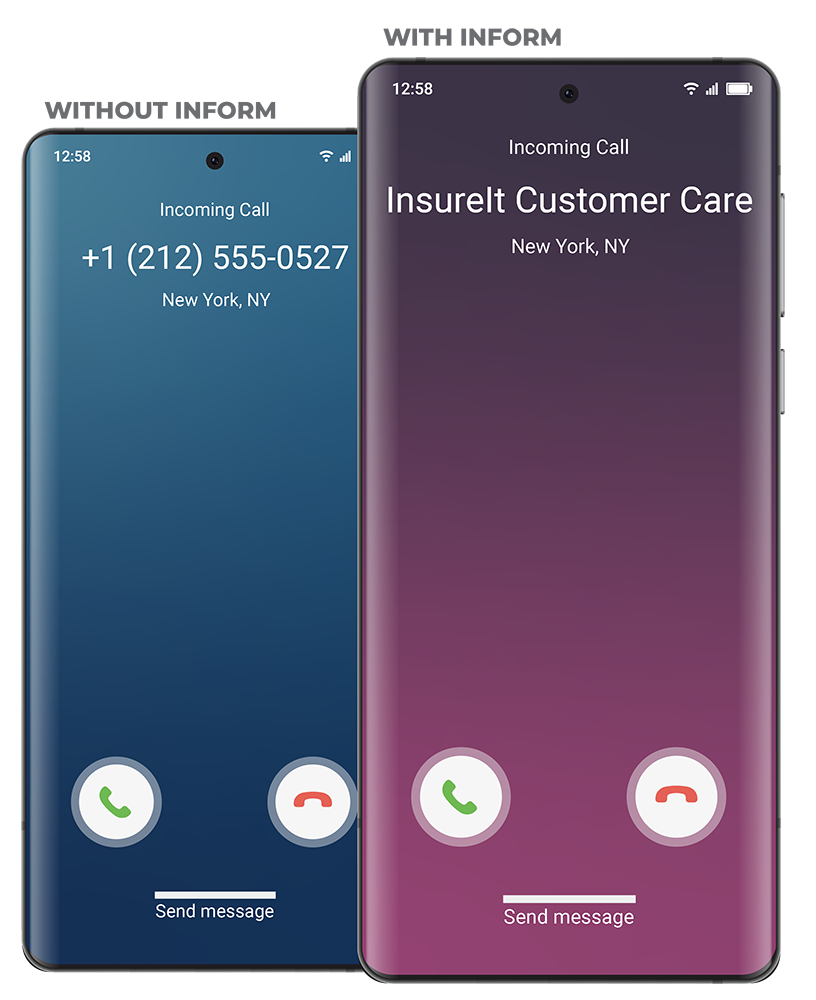 Features

What INFORM Can Do For You

Consumers that pick up your calls are ready to do business, increasing customer engagement, call-center efficiency, and total conversions.
No matter your business or industry, we bring everything together to deliver a successful mobile communication experience to improve brand reputation, reliability, and trust.
32-character personalized text
Customize every call with your brand name, department, or reason for calling.
Brand protection from scammers
Outsmart spoofers when paired with Communication Protection.
Display message in call log
Retain custom branding in phone call log.
Reach over 280+ million handsets
Reach more customers with access to over two-thirds of the U.S. market (and rising).
Added Benefit

INFORM PAIRED Feature

Available via API, The INFORM Paired feature eliminates nearly 100% of all brand spoofing – outsmarting bad actors, boosting brand reputation, and restoring customers trust in you. It's tailored to be the perfect solution for CPaaS providers, UCaaS providers, and enterprises with large volumes. Interested in learning more? Discover how INFORM Paired feature works.
Try It

See INFORM In Action

Do you know what your call looks like to your customers? Enter your business information and see how INFORM could work for you.
INFORM by First Orion

INFORM gives businesses full control with a 32-character display, so you know exactly what it looks like when the call comes through.
Data Sheet

Get In-Depth Info on INFORM

You can solve the problem of the unwanted calls with INFORM branded text display. By branding phone calls through First Orion, you can reach more customers, increase engagement and conversions, and deliver superior customer satisfaction.
Advanced Analytics

Data That Doesn't Lie

A successful calling program is about more than just answer rates – it's about ROI impact. Our analytics offer deeper insights into your calling programs, allowing businesses to make actionable insights to optimize their calling programs and reach their KPIs.
With advanced metrics like Call Duration Buckets and Program Comparison you can identify strengths and weaknesses of your calling programs and compare metrics between programs – giving you the premium performance data you need to see what's working.
Digital Communication Exchange
The Engine that Drives INFORM
INFORM is powered by our centralized technology platform, the Digital Communication Exchange.
The Digital Communication Exchange is driven by a real-time API approach and connects enterprises directly with solution providers and carriers, empowering businesses to capitalize on new technology advancements.
Say goodbye to siloed, disjointed platforms and hello to the future of digital communication.
See What Our
Customers Are Saying
"INFORM increases the chances that a customer will pick up a call that a customer wants to pick up."
Senior manager of product management
Retail
"The people who didn't answer were more likely people who were unsure. But for the people we did talk to, we saw revenue per attempt increase 15% to 40%, depending on the product we were calling about."
Senior director of contact center operations
Contact Centers
"I think there are two layers of this. Their solution causes people to answer the phone more. We already had a pretty high answer rate because of the fact that people wanted to know when they needed to be home for our delivery. Our answer rate was 50% to 60% before the call branding. Our answer rates went up to 70% to 80% when we started branded calls with First Orion. So that was a significant improvement for us."
Manager of post-purchase for retailer, using INFORM for delivery notifications
Call Center