SENTRYTM
Spoof Proof Your Outbound Numbers
Spoofed calls aren't just affecting your customers, they're affecting your business too.
Almost 90% of people expect businesses to protect consumers by ensuring their phone numbers are not being spoofed by scammers in an attempt to trick consumers.
When scammers use your business numbers to make spoofed phone calls, your brand reputation takes a hit. Protect your business and your customers from fraud with SENTRY, the most secure spoof protection solution on the market.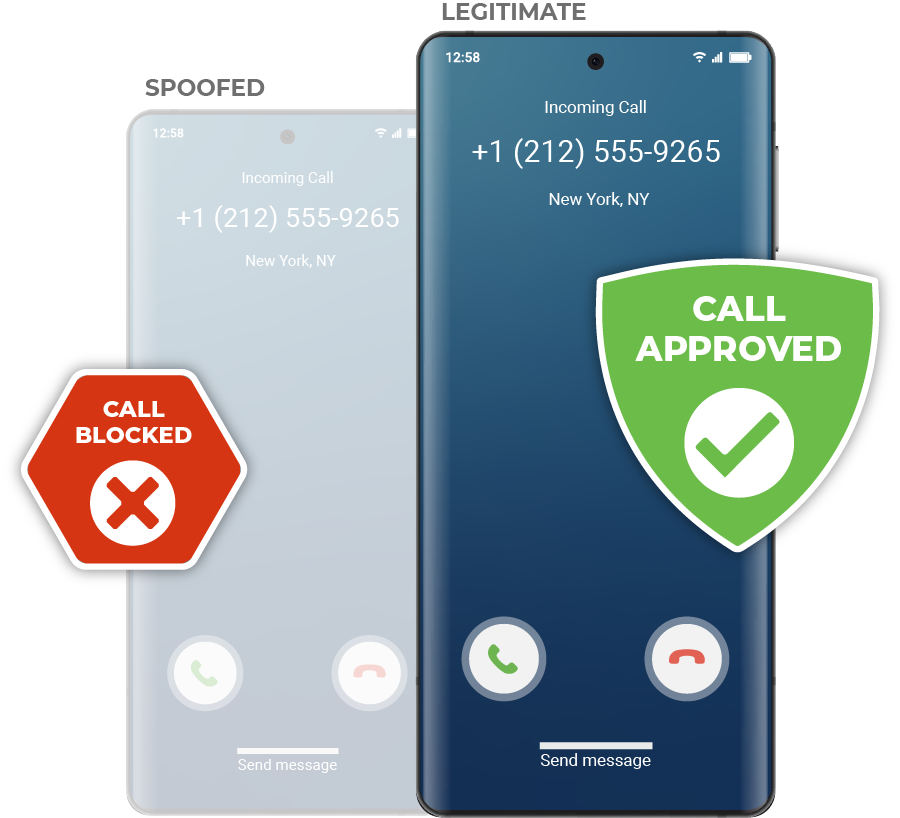 Benefits

What SENTRY Can Do For You

SENTRY ensures that calls from your originating number can only be delivered to the destination number during a finite time window. Legitimate calls are delivered and illegitimate calls are blocked – never reaching the end user's device.
And with number management in the customer portal, you can protect your entire number inventory, even those not in use.
Save money by avoiding fraud incident resolution
Protect customers from fraud
Secure your brand reputation
Increase agent satisfaction and productivity
Want to Learn More About SENTRY's Spoof Fighting Solution?
See how SENTRY works for every industry to combat fraud, and protect your customers and bottom line.
How SENTRY Works
Start Protecting Your Calls with a Simple API Integration
Platform Sends Pre-Call API
Before calls are initiated, users will send call information to First Orion via the Pre-Call API.
First Orion Creates Unique Key
A unique key is made for the aNumber (calling number) and bNumber (called number) pair. The Pre-Call API also tells the broker the TTL (Time to Live), or how long this key is valid.
Agent Initiates Call
When an agent initiates a call, the called terminating carrier requests authentication from First Orion through an API.
Carrier Requests Authentication
First Orion authenticates every call. If the call is legitimate, it will be delivered accordingly. If it is spoofed, it is blocked and will not be delivered to the end user.
SENTRY PROTECTS YOUR BUSINESS FROM MAKING A BAD IMPRESSION
What's in a name? For your business, it could be everything from your good reputation to customer retention and loyalty. While scammers target every industry, healthcare, insurance, and finance are the most lucrative to impersonate. That means scammers could be using your respected name to dupe your customers.
60%
Healthcare
Consumers
Reported losing at least $250 to a healthcare scam, with some respondents even losing $2000 or more to a scammer.
51%
BANKING
CUSTOMERS
Have received a scam call pretending to be their bank.
52%
INSURANCE
CUSTOMERS
Have been contacted by scammers requesting personal data.
Who does
SENTRY

work for?

Enterprises that handle sensitive personal information are obvious targets for impersonation. SENTRY is a vital tool for large call volume businesses such as:
Financial Services Organizations
CPaaS, UCaaS, and Contact Centers
SENTRY IS THE PERFECT

Complement To INFORM
The Ultimate Brand Protection
Spoof Protection + Branded Calling
People don't answer their phones for two reasons: Scammers have scared people from picking up their phones, and unknown numbers makes a business look illegitimate.
87% of people said they wouldn't answer an unknown number. And even when they do answer, they aren't prepared to engage with the business. The solution?
Together, INFORM and SENTRY help you make secure connections with a lasting brand impression.
Pick and choose which programs receive INFORM and/or SENTRY treatment
Only legitimate calls receive branding
Spoofed calls are blocked and never reach your customers
A Proven Track Record
First Orion has over 10 years of experience developing industry-defining communication protection solutions for major U.S. carriers including T-Mobile.
Using our solutions, carriers protect their subscribers from scams and empower them to trust their calls again.
SENTRY extends our protection technology to enterprises so they can be confident that only secure, legitmate calls are being made on their business numbers.